July 14, 2008. It's hard to believe it has been one year since the passing of Dekenric "Devin" Wiley. We take this day to remember the fun, life and energy he brought to Flava Works!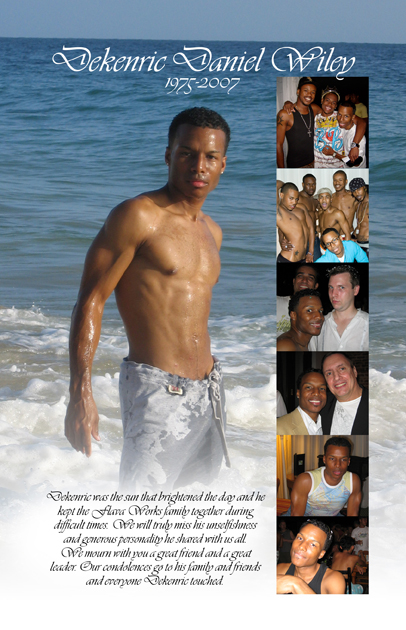 July 14, 2007. A message from Flava Works, Inc founder, Phillip Bleicher:

With a heavy heart and great grief, I am reporting the death of our Vice-President Dekenric Wiley aka Devin, today July 14, 2007, from pneumonia.

Dekenric was the sun that brightened the day and kept the Flava Works family together during difficult times. We will truly miss his unselfishness and generous personality he shared with us all. We mourn with you a great friend and a great leader. Our condolences go to his family and friends and everyone Dekenric touched.

It's a huge loss for the Flava Works family. His legacy and memory will stay with us forever.


Dekenric Daniel Wiley, 1975-2007

THE BEST OF TIMES
Baby Boy, Devin, Ruff Ryder


Breion Diamond & Devin


Breion Diamond, Baby Boy and Devin
The gang @ the New York Gay Erotic Expo
Dekenric's Favorite Pose

| | |
| --- | --- |
| Dekenric | |
[CLICK HERE TO LEAVE A COMMENT IN MEMORY OF OUR FRIEND]
[PREV] 1 2 3 4 5 6 7 8 9 10 .. 11 [NEXT]


Storm
17/07/07 00:05:32

| | |
| --- | --- |
| | Wow...I am really speechless right now but I am glad that he is in a place where he will always be happy. You were truly taken from us waaaaay too soon but your memory will go on. I know you're in heaven right now being your sarcastic self to all the angels and saints. I know you'll raise hll there like you raised down here. I love ya buddy and I will miss you! |
TEZJORK
16/07/07 23:49:59

| | |
| --- | --- |
| | TO DEVIN U WILL BE TRUELY MISSED MY NIGG U WAS HELLA COOL PEEPS I REMEMBER WHEN WE USED TO TALK SHIT AND CRACK JOKES YEARS AGO BE4 WE BECAME COCOBOYS ANYWAYS GOD REST YO SOUL SEE YOU IN HEAVEN ONE DAY |
Formally known as Chino
16/07/07 22:53:35

It saddens me that that this time has come upon yet another good person who has touched so many lives throughout his journey. From my experiences, Dekenric has always possessed a key trait that made him the great person that he is; the ability to approach any situation diplomatically, while constructive expressing his unbiased opinion. I loved the fact that he always seemed to be able to say the right things, making burdens less heavy. There truly will never be another one like him.

And to you Shanequa....lol we still on for the trip, just seems like its been slightly delayed due to turbulence..lol...I miss u kid!


White bread
16/07/07 22:37:33

You Will Be Missed


Thoughts of you will cross our minds
Time and time again
Just as it does when anyone
Has lost a special friend

The memories that you leave behind
Will be looked back upon
The times we'd throw your ball
And watch you run across the lawn

You will be missed our fuzzy friend
As we bid you adieu
Our lives have all been truly blessed
To have had a friend like you


Tony
16/07/07 22:33:05

| | |
| --- | --- |
| | I was shocked to learn of Devin's death. While I only knew him through the dorm, I believe he was a genuine guy who left this world too early. He appeared to be sincere, decent, down to earth and to say it plainly, good people. He will be missed. My thoughts are with his family and the many people who knew him personally. Sleep well! |
Reece
16/07/07 21:58:42

WELL...I'M SO BEYOND WORDS AND THOUGHTS RIGHT NOW; HOWEVER I HOLD AND CHERISH THE LAST WORDS DEVIN AND I HAD JUST A FEW DAYS AGO. ITS FUNNY HOW RIGHT TILL THE VERY END DEVIN KEPT HIS HEAD UP AND CONFIDENCE STRONG. THIS LITTLE GUY WITH SUCH STRENGTH AND THE BIGGEST HEART. GOD PLEASE TELL ME THIS IS NOT HAPPENING!!! BUT HE WAS JUST HERE WITH ME...NO!!! I LOVED THIS MAN AND WILL MISS HIM. SUCH A POSITIVE INFLUENCE IN MY LIFE; WE UNDERSTOOD EACH OTHER SO MUCH. I WILL MISS THE LATE NIGHT PHONE CALLS TALKING ABOUT WHATEVER WE WANTED TO, ABOUT OUR LIVES, ABOUT BREION, BABYBOY AND ROMEO...LOL..WOW. AND TO FINALLY MEET THESE 3 MEN AS WELL. THANK YOU FOR TRUSTING ME AND ME YOU.

ALL I WILL SAY IS THAT PITTY EVERYONE DID NOT GET A CHANCE TO REALLY KNOW DEVIN...AND I THANK MY GOD EVERYDAY THAT I WAS CHOSEN. YOU WERE AND ARE MY EARTHLY ANGEL AND I CANT HOLD BACK MY SADDNESS BOI. GOD HELP US THROUGH THIS TIME...TO MOM AND FAMILY...YOUR SON WAS AND STILL IS A GIFT.


Prince
16/07/07 20:12:38

| | |
| --- | --- |
| | Although I only knew of Devin through his work on this site, I must say that he was one of my favorites. He was a very attractive guy and seemed to have a great sense of humor and just an overall good person. Its always sad when one of us dies so very young. Unfortunately, these tragedies remind us of our own mortality. My prayers go out to Devin's family, friends and cocodorm family. He will be missed. |
JVerde
16/07/07 20:12:38

My Sweet Tyler Rose

As light gave way today
So did a change in the cosmos come about
A bright Star dimmed and twinkled out
Sending one last ripple out into that pool called eternity
Washing over us all one last time
With a sweet kiss good night
Out of a thousand things that had to change
Not once would I have chosen to have to say good-bye to you
My sweet "Tyler Rose" Sweet Dreams.


da kannon
16/07/07 20:12:38

| | |
| --- | --- |
| | I dont know what to say....I feel so bad...Devin I want to thank you for always having my back....My prays go out to everybody that Devin's heart touched. |
Mysterious69
16/07/07 20:12:38

| | |
| --- | --- |
| | I'm speechless. When I first read this, it felt like it wasn't even real. I thought I was just seeing things. I don't even know how to word this. By reading all of you guys' comments, I can tell that he was such a loved guy by everyone. I can see that he had many good qualities and was a great person. He seemed like a real caring, loving guy that made a big impact on everyone. And that is hard to find. This is so sad. My deepest sympathy, thoughts, and prayers go out to Devin's family, his friends, and his second family at Flava Works. |
Pgsexy
16/07/07 20:12:38

| | |
| --- | --- |
| | I don't really know what to say...other than my heart goes out to the dorm, Devin's family, and friends. I remember seein him on the site, then in person, and thought he was one of the coolest people. I know everybody really has to be affected by it and no words can take away the sadness we have, but he's in a better place, and we'll see him again one day! Breion, PJ, Babyboy, Mack, Romeo, and everyboe that was close to him..keep your head up, and know through all of this you have friends to hold u down, even though some of us are distant. Stay up! |
Sexynikka
16/07/07 20:12:38

| | |
| --- | --- |
| | After reading all of the thoughts posted in this section I could not stop without saying something to encourage all of our hearts and minds. Surely, I am not gonna preach a message here but I want to say to the family of Devin, "You all in my thoughts and prayers". Next, how could I forget the family of Cocodorm and flavaworks. You all are on my mind and in my thoughts as well. I realize that this is a difficult time as one of our family members will not be present with us anymore. However, I want everyone to reflect on the nice times shared with Devin the times he made you laugh, and helped us (including me) through a difficult time. I had many opportunities to conversate with him over the phone and through emails. He demonstrated professionalism in his responsibilities to the company and faught to the nail against ignorance and slanderous accusations and claims made against the company. In light of recent events, I urge us all to continue to fight and to not allow his live and fight to be in vain. If we cannot say something nice about somebody, please; "DONT SAY NOTHING AT ALL". Lets uphold the dorm and keep our support strong. Lastly I say to Breion, Babyboy, PJ, and all of the lives touched by Devin...Be Strong we all love all of you!!! |
Justin Jones
16/07/07 20:12:38

| | |
| --- | --- |
| | It just don't really seem real that ur not hear anymore. I always felt like you where a friend someone to learn from and be like, what you've done with your life is an inspiration to me. You where about the whole and not just urself and that's what makes a man to remember so i'll always keep u in my heart. P.s Check in on us every know and then |
Clouds aka Voyur40
16/07/07 20:12:38

You went to sleep on this side, and will wake up on the other.

Another has gone to see the Master. I remember when Devin first came to the dorm. He was a POWERHOUSE and we all enjoyed watching his shows. We all enjoyed his early morning wake me up hott jo sessions. It is sad to hear that he is gone but he will not be forgotten. I remember we did fall out but time heals all wounds. I send prayers out to his family, friends and supports of the dorm. GOD will heal all broken hearts.


C.Mack
16/07/07 20:12:38

| | |
| --- | --- |
| | My fondest memory of Devin is him and his damn cell phone! He was the KING of the 3 page text message, however whenever he did answer his cell nothing but energy came through the phone. Devin you taught me so much about being a true man; you gave me some real sound advice during my tenure as "dorm dad" and I will never forget it! My phone blew up today with people texting and calling me to tell me what happened; I didn't believe it I was praying that it was some more bullshit . . . my heart sank when I spoke to Breion and he confirmed my worst fears! To Devin's mom, extended family, the Flavaworks family, and fans my heart goes out to each of you this is a tremendous loss for us all! Miss you Devin, the world will never be the same with out you! |
MSNBC
16/07/07 20:12:38

| | |
| --- | --- |
| | It was great knowin Devin talkin , jokin and chattin with Devin he was a real down to earth person we joked about being fam cause talked so much...But my prayers to his mother [who we talked about often] and his family and to his extended family at the dorm...Peace and much Luv to all of you.... |
erock
16/07/07 20:12:38

| | |
| --- | --- |
| | Devin stands out for his businesslike attitude and faithfulness, and his loyalty to the dorm family. The old African saying is, no one is ever dead until he is forgotten. You'll live on, Devin. |
franchise
16/07/07 20:12:38

| | |
| --- | --- |
| | dam i cant belive that devin is gone he was the cooliest person that i had meet and a long time its just crazy because you would have never new that he would have to go as earily as he did thats just shows that we never know when are time to go so i say that eveybody needs to just start being there for each other because you will never know when your time is to devin family and flava be stong and know that now hes in a better place then we are and god will take care of him now and you have my sincerest sympathies |
Tw!$t3d
16/07/07 20:12:38

OMG I was in so much shock when i heard the news... My condolences go out to Devin and his Family. I remember the times we would go out and how he would make us all laugh... he had this snap he used to do it was hillareous everytime he would put someone in there place he would do it. So sweet so loving took care of us all, You will truely be missed.

Love and Rest In Peace
Yo boi Twisted


Vasean
16/07/07 20:12:38

Although I knew him for far to
short a time...

DeKenric touched me, and enriched
my life, by graciously allowing
me to share a little of his...

The world is diminished by his
absence...

You have my sincerest sympathies
while we deal with the loss of
such a beautiful man...



[PREV] 1 2 3 4 5 6 7 8 9 10 .. 11 [NEXT]