July 14, 2008. It's hard to believe it has been one year since the passing of Dekenric "Devin" Wiley. We take this day to remember the fun, life and energy he brought to Flava Works!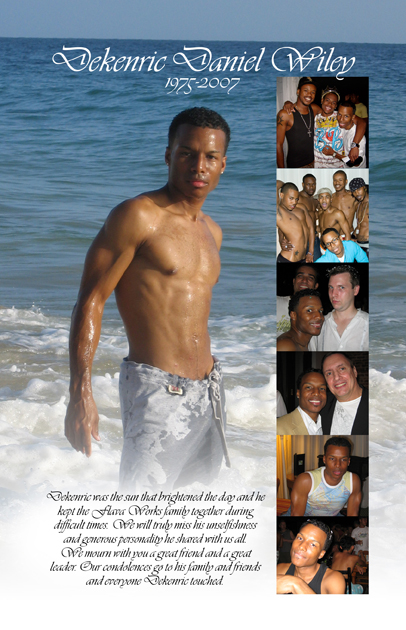 July 14, 2007. A message from Flava Works, Inc founder, Phillip Bleicher:

With a heavy heart and great grief, I am reporting the death of our Vice-President Dekenric Wiley aka Devin, today July 14, 2007, from pneumonia.

Dekenric was the sun that brightened the day and kept the Flava Works family together during difficult times. We will truly miss his unselfishness and generous personality he shared with us all. We mourn with you a great friend and a great leader. Our condolences go to his family and friends and everyone Dekenric touched.

It's a huge loss for the Flava Works family. His legacy and memory will stay with us forever.


Dekenric Daniel Wiley, 1975-2007

THE BEST OF TIMES
Baby Boy, Devin, Ruff Ryder


Breion Diamond & Devin


Breion Diamond, Baby Boy and Devin
The gang @ the New York Gay Erotic Expo
Dekenric's Favorite Pose

| | |
| --- | --- |
| Dekenric | |
[CLICK HERE TO LEAVE A COMMENT IN MEMORY OF OUR FRIEND]
[PREV] 1 2 3 4 5 6 7 8 9 10 .. 11 [NEXT]


Eternity
17/07/07 04:56:08

I first would like to say... to leave this earth is not to leave our hearts. I met Dee in Dallas when he first came out and he was the cutest lil baby I had seen. He was very outgoing and mature for his age. As time moved on we became better friends. He was known to everyone in Dallas as "Lil Dee". My my my how time fly. This was in the early to mid 90's. He never changed and never forgot us at home here in Texas (Dallas).
When one of our closest friends was murdered he called me the next day and sent me a lovely email and I was so grateful.
Dee was a special person and I had the opportunity to hug and tell him I love him last month while he was here in Dallas. He smiled and I told him to take care. If one thing I can say is he did look at peace. Peace is something we live for, but often never find. I think "Lil Dee" found that peace.
Lets not look at this page and be sad. Lets be thankful that he touched the lives of many. He did one thing that life is about. He lived! Im glad that I had a chance to be a part of someones life that was special to so many others.
"Lil Dee" I will miss you, but more than anything I will never forget you.
Much Love,
Eternity


ReDICKulous aka Kelvin House
17/07/07 03:31:25

| | |
| --- | --- |
| | Dekenric you were the person that introduce me to the Flavaworks Inc. Family and it hurt me to my heart that now you arent hear with us. You were what I thought the person who kept it all together and the face of an phenominal company. You will be missed and I appreciate all your help and friendship and without you I wouldnt have gotten the recogniztion that I have recieve or became the person who I am so I thank you and I will miss you. |
Vito
17/07/07 03:22:16

| | |
| --- | --- |
| | OMG...I AM HEARTBROKEN AND EXTREMELY HURT BY THIS TRAGIC EVENT.I WANT TO GIVE MY CONDOLENCES TO MY GREAT FRIEND DEKENDRIC WILEY AND HIS IMMEDIATE FAMILY,AND ALSO TO THE FLAVAWORKS FAMILY.PLEASE CONTACT ME AT VITOMISHAN@YAHOO.COM |
MARKELL
17/07/07 03:11:35

| | |
| --- | --- |
| | DEVIN,DEVIN,DEVIN MAN OF COURSE LIKE ALL OF HIS OTHER ACQUAINTANCES I WAS SHOCKED, THEN HURT,AND ITS STILL HURT UP TO THIS POINT. I MET DEVIN A GOOD 3 YEARS AGO ONLINE. AN INTERNET CRUSH AS U COULD CALL IT LOL , A FEW MONTHS AFTER I STARTED PORN I WAS ASKED TO LOOK AT SUM PICS OF A NEW PROSPECT FOR THE DORM AND IT WAS DEVIN. I OFCOURSE SAID I WANTED HIM TO COME IN A HEART BEAT. MY FIRST TIME MEETIN DEVIN, I SAW OFF THE BACK , HE WAS HANDSOME ESPECIALLLY FOR HIS AGE WHICH HE LOOKED NOTHING LIKE IF THERE WAS A CERTAIN LOOK. HE WAS CLEAN , NEAT ORGANIZED , OPENMINDED , AND A GREAT GUY TO JUST BE AROUND.SMART,INTELLIGENT, AND WHETHER YOU LIKE IT OR NOT HONEST. THROUGHT OUT OUR FRIENDS SHIP WE HAD OBSTACLES OF COURSE BUT ME AND DEVIN ALWAYS UNDERSTOOD WHEN WE SAW EACHOTHER IT WAS NOTHING BUT LOVE. ONE JOKE THAT STAY WITH ME WHEN WE WOULD FLIRT WITH EACHOTHER -HE'D SAY MARKELL YOU KNOW U SUPPOSE TO BE MY BOIFRIEND.I'D SAY I KNOW BUT I GOTTA GET MY SHIT TOGETHER SO I CAN HANDLE YOUR ASS LOL.AND HE LAUGH AND SAY "YEA LOL IN A PERFECT WORLD". DEVIN YOU WERE TOO PERFECT FOR THIS WORLD AND THATS WHY YOU ARE GONE. YOU LIVED YOU WERE THE BEST, YOU'VE LOOKED AMAZING , YOU'VE SPOKE AMAZING NOTIONS , YOU'VE CHANGED EVERYBODHYY'S LIFE AROUND YOU AND I KNOW YOU ARE WALKING ALONG SIDE WITH JESUS NOW.NO MORE PAIN,NO BILLS,NO WORRRRIES,NO SADNESS. YOU HAVE BEEN AND STILL ARE TRULLY BLESSED I'LL MISS YOU LIKE THE DIFINITION SAYS , BUT I WILL NEVER FOR YOU LOVE. MARKELL. |
Tw
17/07/07 03:03:06

| | |
| --- | --- |
| | It's difficult to accept that Devin is gone, that he'll no longer be able to be our friend, no longer be there for us as he's been so many times in the past. Always supportive, always loving, always fun. This tragic loss is another reminder that our friends and family are our most precious things we've got. Everything else is unimportant. ......... |
DarkNemesis
17/07/07 02:39:58

In my twenty-five years on this magnificent Earth, I have realized it is hard come across a man that is as equally stunning as he is intelligent. Devin displayed both these qualities. Although we've had in-depth conversations online many times, we never met. This past Sizzle I was looking forward to seeing him for the first time. He spotted me within the pitch black club, and we needed no introduction. I asked him how he recognized me and he responded softly, "You have a distinct look, and I never forget a face." I never imagined that would be the only time we met. Many people pass fleetingly through life never really understanding the precious gift we all have. As humans, we possess the ability to rationalize, reason, yet we are all walking contradictions—bestowed with both benevolent and maleficent qualities. These ethereal dualities define our very essence. Life and Death—the Alpha and Omega—is perhaps the most quintessential of these dualities. Our actions or lack thereof, weigh heavily upon our time. Our earthly existence is very swift and all we have to decide is what to do with the time that is given to us. Devin is in place that defies all our known laws—a place where he can look down upon us with angelic eyes and patiently await our own homecoming.

...the journey doesn't end here. Death is just another path...One that we all must take. The grey rain-curtain of this world rolls back, and all change to silver glass... And then you see it. White shores...and beyond... the far green country under a swift sunrise.


Rommell
17/07/07 02:38:08

| | |
| --- | --- |
| | Devin, You will be truely missed. You always made me feel good inside and out with your smile and warm and kind heart. God loaned you to us for this short period of time to shine on us with your gentle and loving spirt. You was put on this earth to do and complete an assignment and that is what you have done. And might I add, you completed it well. I know you are in a place where there is nothing but peace and love. There will never be another Devin like you. May you rest in God's arms. This is not "goodbye", its more like "see ya later". Just keep looking down on us with your cute self...lol REST IN PEACE!!!!!!!!!!!! |
RAY CUNNINGHAM
17/07/07 02:34:01

Im absolutely lost for words right now. I remember a year ago when I first meet Devin a year ago at Dallas Southern Pride. He was so inviting and gave me my first nationally published interview in FlavaLife. This year at Houston Splash...we had so much fun up on that top floor. Im sorry I didnt get to know you as well as I wish I had. You were extremely professional, clean cut and honest - the makings of the true and natural leader. I only hope with the time I have left that I can be of an influence and touch people as you have. I miss you brother and will always remember you!

Yours in community - RAY (BET College Hill) aka "you drunk queen from BET" (as you called me LOL)


K&K prod. (KEN AND KEV)
17/07/07 02:25:14

ON BEHALF OF K&K prod. (KEN AND KEV) WE WOULD LIKE TO SEND OUT OUR CONDOLENCES TO THE FRIENDS AND FAMILES OF Dekenric Daniel Wiley. OUR HEARTS AND PRAYERS ARE WITH YOU ALL, IN THIS TIME OF GRIEF AND SORROW..TO THE FRIENDS AND FAMILIES JUST KNOW THAT DEKENRIC IS IN A BETTER PLACE AND YOU ALL WILL MEET AGAIN SOME DAY ..
SINCERELY KEN ..


Jason St-Fleur, Esq.
17/07/07 02:11:55

| | |
| --- | --- |
| | As FW's attorney I have spoken and met with Dekenric a few time including our last meeting about 3 weeks ago- when he opened the door I commented on how big the room seemingly appeared as oppose to the last time we'd met and without missing a beat he smiled and said nah, nothing has changed. I will forever remember that smile. I am sadden today because he is no longer with us but, I nonetheless thank God to have had the opportunity to know and to have worked with him. To his family: Remarkable is the word that comes to mind when I think of your son, brother, friend, etc. May God bless you all. My condolences. JS |
Dereck Wallace
17/07/07 01:49:34

| | |
| --- | --- |
| | On behalf of the Lion's Den Atlanta - Devin, you will certanly be missed. Your warm smile, your joyful spirit, and sense of humor was as bright as the sun itself. We will missed....gone to soon! Our paryers go out to Devin's family and friends. |
nick da kannon
17/07/07 01:47:22

This is the only guy I let call me "Lil Miss Nicky" I am going to miss you so much. Its not going to be the same without you, but I know it was your time. Save ah spot for me and all ma FlavaMen.


I love you always


Tom Weise
17/07/07 01:39:32

I am in deep pain over Devin's passing for he was this little man with strong powers like myself and he too was there for his guys like I have been for my rentboys for the past 10 years. When I found out during the recent rentboy pool party in fort lauderdale this past Saturday I was devastated and shocked. It makes you think about your life when someone can drop out so suddenly. Devin, you are truly missed and I personally miss a friend and beautiful person in my life. We here at Rentboy.com and Hustlaball will never forget you!!!
LOVE & PEACE!
Tom Weise


Da Truuf
17/07/07 01:22:15

| | |
| --- | --- |
| | We at Club Philly LIVE Promotions send our condolences to the the family and work family of Devin Wiley...He was great to work with, loved to laugh and always kept me on the phone cursing me in his own way about making sure I represented the Flava brand name accordingly...Without Devin's Help I wouldn't be in the position im in now running my promotion...Thanks to you Devin, RIP big guy....You will be missed and dats da truuf!! |
HarrynDaHood@aol.com
17/07/07 01:14:44

| | |
| --- | --- |
| | I am totally at a lost for words. I never met Devin in person, but had a long running friendship over the phone. Devin was the first to publish my art/comic HARRY 'N DA HOOD in Flavalife. He was very generous and kind and I enjoyed working with him. I just found out. I never knew he was sick. He never let it show. I wish I could have said goodbye. A piece of him will always be with me. Good Speed my Friend. I loved to have known you. |
Dwight Powell
17/07/07 01:13:42

| | |
| --- | --- |
| | My friend you will be missed. You were indeed a very special person. My heart goes out to your family, Phill and the entire gang at FlavaWorks. You have left us far too soon. Rest in peace |
Don
17/07/07 00:34:15

| | |
| --- | --- |
| | I only knew Devin via phone, working for FW as a writer; he just seemed to always be the eye in the middle of a great hurricane, remaining calm as the storm raged on around him. A consummate professional, a great listener, and a good guy. I know he will be missed, and sorry for the loss; am sure his upbeat personality and witty sense of humor made going to work that much easier for you all ... |
Jay
17/07/07 00:31:27

| | |
| --- | --- |
| | I didnt know Devin, but I know death very well and the impact it has on so many. So, I send out my love and prayer to all who loved him. Please Please remember that although hes in heaven walking hand and hand with God, he is still here with each and everyone of you..in your hearts, where he will stay until you meet again, and you will. |
RUBBER
17/07/07 00:29:47

| | |
| --- | --- |
| | I don't know where to start ... But, for the last 4 years that I've known Devin in the dorm, he had the same kind of character that I now have. He was funny in so many ways, and when I first came on the cam, and spoke to him, he had that smile that makes a person's day much more brighter. Even when I did my tricks, his face went from a normal standpoint, to this, OMG, Whaaaat look ...and I laughed cuz he never had witnessed anything like that before. I won't forget that day and Devin, most of all.. I won't forget the person that you were. My condolences go out to his family, as well as the FlavaWorks family. We truly have lost a giant, but I know that the dorm will step their game up. Devin, I'm gonna miss you. Rest in peace my friend. |
Taylor Siluwé
17/07/07 00:12:04

Deepest condolences to all who's hearts are in pain over this sudden lose. If there is one thing that will comfort, it's the knowledge that Devin will always be with each of you ... his knowledge, wisdom, and wit will never fade.

When you need him, he'll be there. This much I know. ~~ tS



[PREV] 1 2 3 4 5 6 7 8 9 10 .. 11 [NEXT]