July 14, 2008. It's hard to believe it has been one year since the passing of Dekenric "Devin" Wiley. We take this day to remember the fun, life and energy he brought to Flava Works!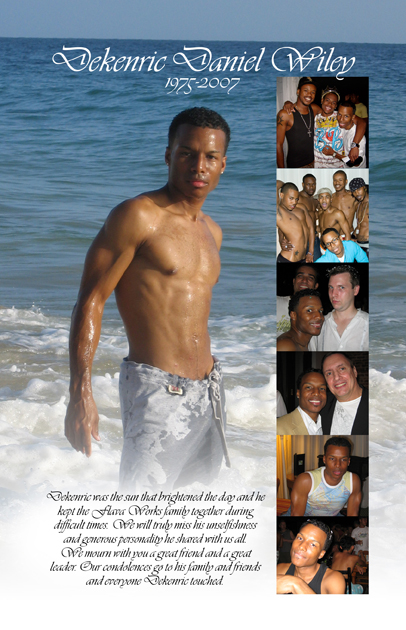 July 14, 2007. A message from Flava Works, Inc founder, Phillip Bleicher:

With a heavy heart and great grief, I am reporting the death of our Vice-President Dekenric Wiley aka Devin, today July 14, 2007, from pneumonia.

Dekenric was the sun that brightened the day and kept the Flava Works family together during difficult times. We will truly miss his unselfishness and generous personality he shared with us all. We mourn with you a great friend and a great leader. Our condolences go to his family and friends and everyone Dekenric touched.

It's a huge loss for the Flava Works family. His legacy and memory will stay with us forever.


Dekenric Daniel Wiley, 1975-2007

THE BEST OF TIMES
Baby Boy, Devin, Ruff Ryder


Breion Diamond & Devin


Breion Diamond, Baby Boy and Devin
The gang @ the New York Gay Erotic Expo
Dekenric's Favorite Pose

| | |
| --- | --- |
| Dekenric | |
[CLICK HERE TO LEAVE A COMMENT IN MEMORY OF OUR FRIEND]
[PREV] 1 2 3 4 5 6 7 8 9 10 .. 11 [NEXT]


KRISdagreat
17/07/07 22:54:08

| | |
| --- | --- |
| | I really don't know what to say. I only chatted with Devin a few times in the chat, but from our conversations, I knew that he was a special person. My prayers are with his family and also with all of those who cared for him. RIP Devin! |
JEREMY
17/07/07 22:04:29

I am deeply saddened to hear about the lost of Dekenric, he was a great person and he will be truly missed. I wish peace on his family and everyone that is hurting at this time because of his death. He had so many friends and people that loved him, and I can truly say I feel that he is in a better place at the time getting his much deserved rest. Bless you call and always remember to love and embrace life just as our friend Dekenric did.

Jeremy


Brandon
17/07/07 20:53:28

Wow!! Everyone who's been part of the flavaworks family, including myself the straight one of the group. Can tell you that when Devin first started with us, he was the equalizer. Having him around to balance out the demanding nature of my close friend Phil with his firm and understanding nature help flavaworks change the direction we were heading.
Devin was able to keep a lot of the riff raft away, that once plagued the company. Devin understood my personal relationship with Phil, and found himself becoming like a older brother or boyfriend I never had. Having Devin at reins of the company was Phil's best idea ever!!! Many people have come and gone, Devin probably one the only one ever to stay around flavaworks this long and make real changes.I will miss Devin dearly,and will always have him in my heart. I know Devin will be watching out for me from above, just like he always since we have met.


Kirk Myers
17/07/07 19:39:31

On behalf of myself and Abounding Prosperity Inc. we would like to express our condolences to Dekenric's family during this time of grief and mourning. Since the start of API Dekenrick was extremely supportive of our mission by helping to raise awareness in Dallas and nationally about the work being done to educate our brothers about HIV. This is a wonderful opportunity for us to strengthen our fight to stop the spread of HIV in our community. I am certain that our friend Dekenric would love that. Rest in peace,

Kirk Myers


Frank Leon Roberts
17/07/07 19:35:41

I'm still flawed, shocked, saddened, and stifled by Devin's death. I will always remember him as sincere, sensitive and charismatic. Truly a sweetheart. I first met Devin in late 2005---since then he had become a friend and someone who I grew to deeply respect and admire. His death reminds us that indeed, the "good ones" always go too soon. He'll be missed and he was loved.

Respectfully,
Frank Leon Roberts
NYC


LiL DRE
17/07/07 19:32:22

As easy as it is to be born, its just as easy to die,
As easy as it is to love, its just as easy to be loved...
but what do you do when u gain a friend, and then he/she is lost? ?? A question i have been asking myself time and time again. You turn to GOD, God has a devine plan for each and everyone of our lives. Devin did his work, and all we can do is trust and believe that the work he did, has touched the people he was meant to touch.
~~~I was one of those people~~~ With tears fallin and a heavy heart, I just as well as all of you must continue to move on, keeping everything about him close to you, so that when u leave...your work too will BE DONE! So to the family, my family(models), friends, and members...cry your tears, say your prayers, and pull the next man closer and tell him you love him. Cause just as his life was cut short, we never know when your time will be.

~~~DEV, I love u bruh, and I thank you~~~ NOW take you a good rest, cause a couple of us are waiting for your RETURN...

as an~~~~`ANGEL~~~~~MAd love....DRE'


da kannon
17/07/07 18:36:13

| | |
| --- | --- |
| | I dont know what to say....I feel so bad...Devin I want to thank you for always having my back....My prays go out to everybody that Devin's heart touched. |
so sad - Prince
17/07/07 18:34:36

| | |
| --- | --- |
| | Although I only knew of Devin through his work on this site, I must say that he was one of my favorites. He was a very attractive guy and seemed to have a great sense of humor and just an overall good person. Its always sad when one of us dies so very young. Unfortunately, these tragedies remind us of our own mortality. My prayers go out to Devin's family, friends and cocodorm family. He will be missed. |
FOR MY SPECIAL FRIEND - MIAMIBEACH
17/07/07 18:31:47

My dear friend Dekenric (aka Devin), i am trying to put it all in the right prospective, but it is just so tough it's too soon, it wasn't the right time. You still didn't register the motorcycle we got you and you promised me to do it before you will get another ticket. I try to recall all our long conversations about anything and nothing just talking and of course the shopping. I will miss those moments a lot, it's never easy losing a good friend.

my deepest condolences to the whole family, you lost a great son, uncle cousin and friend is memory will be with you forever.

to my friend Phil i know you still evaluate your big loss, i seen you every day with a big hope that Dekenric will pull out of it and be back to normal, you got him the I-Phone to put a smile on his face, i am so sorry for your big lost just keep staying strong.

And all the dorm models, i know its tough time for you guys, you all lost a great friend, but try and remember all the fun time we had with Devin we will never forget him.

YOU WILL BE MISSED DEKENRIC WILEY


Baby Boy
17/07/07 18:26:46

It continues to hurt each and every time I look at this page.Still in shock but trying make it each hour as I realize D isnt here. He was always a phone call away if I needed someone to talk too. The only person I could pick up the phone and talk too for hours about things going on in life.

As we live each day on this earth, we write a chapter in the book of our lives. It is a book filled with stories of happiness, laughter, adventure, danger, sadness, joy, pain, and love. Every person that smiles at us as they pass us by on the street, each is important in creating the myriad of memories that make us who we are.

I believe that time exists so that we may pinpoint each one of those memories in our book of life. When the time comes for our book to be finished, we can go back and reflect any moment that we wish to for however long we desire. God has decided that Devin's book is done, and now he can sit by his side and enjoy flipping through the pages of his life and finally learn the meaning of the mystery we are all still living here on earth.

D was my mentor, my best friend, my hero, my perfect example of how to contain oneself. Whenever I was lost or felt there was no way out, D was there to take my hand and guide me through. What made him so special was that his upbringing reflected the undeniable genius D was about. Smart, Warm Hearted, generous, Loving, Funny, all the characteristics one would want to have to be the Perfect Friend, Brother, Son, Mentor, and Leader.

I still cant believe He's gone. Such an unfortunate loss for everybody D Touched.

Everyone should look at the moon and stars and see the new star that was born on July 14. The twinkle of Devin's eye will resonate against the dark sky and bright moon. He's Here amongst us, although far, He's here.

And

I'll walk the earth knowing that you are everywhere. Looking down from heaven, Waiting for BB to get there....

I send my condolences to everyone suffering from this loss. Especially his Family. If D came into my life and effected me for the brief time we knew each other, I cant imagine what those who known him for his entire life are feeling.

Devin, Life on this earth will never be the same without you.....

Goodnight, Luv BabyBoy


JOKER
17/07/07 16:17:46

| | |
| --- | --- |
| | WOW man I just spoke to u NOT to long ago about seen you during Charlotte Black Pride, and the 1st thing u would always say is "WAT U WANT KIDDO" and I can say I miss that already and Im missing you. You are and will always be a GREAT MAN, and u will live on forever. I spoke wit Baby Boy and he's hurting so bad because he's ur lil brother and he miss you. TO ALL MY OTHER DORM MODELS lets just keep each other in good pray's and wish Devin's family the best. |
jeff Fisher
17/07/07 14:11:32

Dekenric Wiley for those of us who know him exhibited the wisdom that only those who live a century sometimes achieve. He shared that wisdom with us all and for that we are blessed
His family a t Flava Works of which I was a part enjoyed his quiet smile and gentle laugh when times were good. In times of adversity he offered us stability and perseverance, never once did he waiver in the goal of moving forward at a slow and steady pace. Dekenric always made us feel secure that all was well no matter what challenges we faced. His departure leaves a void that will not be filled easily, if at all.
Dekenrics Mother: You have suffered the worst agony a parent can experience the loss of a child. I have no words to ease your pain. I can only hope it may offer you some peace in the knowledge that Dekenric lived every day to the maximum and is loved by so many.
To all the people who Dekenric left behind, I hope you may find peace and comfort in the fact that a special gift was give to you, he was part of your life
Dekenric Wiley , Our creator has brought you home to rest
I miss you
I am angry with you because you left to soon.
The most important thing you must know before you leave is thank you for the time you gave me.
Good Bye Devin
Jeff Fisher


Ty Lattimore
17/07/07 14:01:03

| | |
| --- | --- |
| | You will truly be missed. I am grateful I got to meet you at Charlotte Pride three years ago. Our friendship has grown over the years. I will miss the interaction and communications we shared over the years. Still hard to imagine that you are gone. Rest In Peace. |
Chris
17/07/07 12:35:15

| | |
| --- | --- |
| | I only was able to meet Devin in person for a short period of time this year in Vegas, but enjoyed hanging with him while we had the chance. He will be missed and our condolences go out to his friends and family and the crew at Flavaworks. |
*prince
17/07/07 12:29:38

| | |
| --- | --- |
| | I DIDNT KNOW DEVIN PERSONALLY BUT THROUGH THE WRK HE DID AND THE DORM HE KEEP TOGETHER HE WAS A PHANOMINAL MAN AND LEADER.HE SEEMED VERY HUMBLE AND WELCOMIN TO EVERYONE HE WAS A GREAT PERSON WITH A SOUL THAT JUS LIGHTENED UP TO ANYONE WHO NEW HIM.MAY YOU REST IN PARADISE DEVIN& WATCH OVER ALL UR FRIENDS AND LOVED ONES BECUASE THEY GON NEED THEY GUARDIAN ANGEL SINCE HE ISNT HERE ON EARTH.MUCH LUV&RESPECT TO THE FAMILY. |
The Maverick
17/07/07 10:58:25

I remember when I met Devin at Charlotte Black Gay Pride in 2005. He had a uniquely outgoing personality and a gentle spirit about him. I was shocked when I heard of his passing from my roommate. I took a pic with him from CNCBGP 2006 that is posted on my BGC profile.
Devin: sleep on, take your rest. You will be greatly missed!


DJ Blackcat
17/07/07 10:15:56

I am really sorry to hear this. This has not been a good year. Alot of deaths and it must be hard for a lot of peeps to deal with. To the family and friends stay strong, cry if you must. there is nothing wrong in tears. GOD made it possible for us to cry when we need to and he is no fool.
This is jus another reminder to us all to take care of each other while we are here.

wit love,
Blackcat - Toronto Canada


Kreth
17/07/07 07:32:50

| | |
| --- | --- |
| | I never met Devin in person, but we used to chop it up over da phone/email. He was hella coo & a very lovin person. I can also tell tell that he touched alot of people wit his kind & gentle spirit. My thoughts/praers go out to his fam/friends!!! RIP |
Gone
17/07/07 06:09:53

I don't think I've ever been at a total loss for words before.

God bless man...you'll be missed


Brent
17/07/07 05:33:36

I am finally able after countless hours of crying to write something on this blog. Devin was more than my friend, he was my everything during the time i was at the dorm. Anyone who knows me knows how much i loved and still love Dekenric D. Wiley. No one has impacted me more than devin. He taught me so much about how to carry myself and taugt that i could be confident without being a bitch. Devin i will truly miss you. You are still my MOM at heart.
love Michael aka Brent



[PREV] 1 2 3 4 5 6 7 8 9 10 .. 11 [NEXT]