July 14, 2008. It's hard to believe it has been one year since the passing of Dekenric "Devin" Wiley. We take this day to remember the fun, life and energy he brought to Flava Works!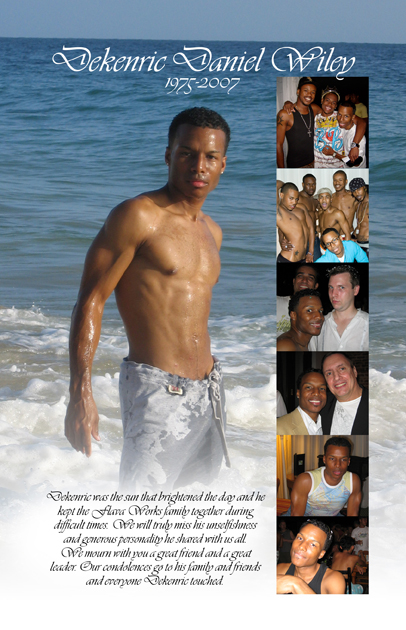 July 14, 2007. A message from Flava Works, Inc founder, Phillip Bleicher:

With a heavy heart and great grief, I am reporting the death of our Vice-President Dekenric Wiley aka Devin, today July 14, 2007, from pneumonia.

Dekenric was the sun that brightened the day and kept the Flava Works family together during difficult times. We will truly miss his unselfishness and generous personality he shared with us all. We mourn with you a great friend and a great leader. Our condolences go to his family and friends and everyone Dekenric touched.

It's a huge loss for the Flava Works family. His legacy and memory will stay with us forever.


Dekenric Daniel Wiley, 1975-2007

THE BEST OF TIMES
Baby Boy, Devin, Ruff Ryder


Breion Diamond & Devin


Breion Diamond, Baby Boy and Devin
The gang @ the New York Gay Erotic Expo
Dekenric's Favorite Pose

| | |
| --- | --- |
| Dekenric | |
[CLICK HERE TO LEAVE A COMMENT IN MEMORY OF OUR FRIEND]
[PREV] 1 2 3 4 5 6 7 8 9 10 .. 11 [NEXT]


Andre Allen
18/07/07 16:44:24

| | |
| --- | --- |
| | A great individual and a cool person. In this time of sadden lets remember devin for his ability to light up a room and bring laughter to it. You will be missed. www.lauderdaleboi1500.blogspot.com |
cj5smith@yahoo.com
18/07/07 16:20:19

| | |
| --- | --- |
| | my heart and prayers goes out to his family and friends, i did not know him but always saw him in the Dallas area, even though we did not communicate my heart is aching, its a reminder how precious and short life is. |
jonathan [justbthat]
18/07/07 14:22:18

here is a remembrance video that cmack and i did last night to celebrate his memory

http://stage6.divx.com/justbthat/video/1429130/tri...


K Boyd of 7connection
18/07/07 14:05:02

My thoughts and prayers are with all who are in mourning over our close friend, D! You will be missed; but more importantly, cherished for your love towards others, remembered for your hard work and leadership, and irreplaceable because of your dedication to the true spirit of family and friendship!

When I would call D it was always "what do you need me to do and when do I need to be there?" He was always in total support of my goals and vision; and that support will never be matched nor forgotten! On behalf of the 7connection team, we love you and rest in peace D.


thomas bristow
18/07/07 13:03:43

| | |
| --- | --- |
| | Life is precious and should not be taken for granted. When I recieved the phone call I was shocked and surprised. Dekenric was a big brother to me. One of my first gay friends of when I came out the closet. Dekenric took me under his wing and showed me the ropes of how to survive in the crazy gay lifestyle. He taught me strength, character, and always had a listening ear. Dekenric Wiley I love you and to all his family and friends I pray for your strength. Please to everyone let us keep in mind that we only have one life and that we must live it to the fullest meaning there are sometime no second chances. Seize every opportunity because you never when its your time. Peace and blessings |
TPROmix
18/07/07 10:04:28

| | |
| --- | --- |
| | hmmm, i just got done watching the CELESTINE PROPHECY movie and a quick check of my overflowing mailbox 2 get the word. So sad, for many reasons, but fore-most i want 2 echo alot of others here. His energy was amazingly comforting. Everytime he would be at one of the events or call or email he was just calming, that balance may not have been present 2 some people who think they are better and always critic and judge the industry he was working in, and thats double sad. Because they missed out on someone farther along the path then many.... |
Brice
18/07/07 06:36:09

| | |
| --- | --- |
| | Devin was one of the nicest people that i had met during my stint in Miami..The first day i stepped into his office at FlavaWorks, he was very welcoming. You see.. Devin had the effect of making me more comfortable in the decision that i made, and i did appreciate that..He had jus taken my hand, held it, and said ya know It's okay. That set the tone for him and was a hell of a first impression. By the way his hands were really soft and he smelt so damn good. Yes the man kept it 100 each and everytime i saw him. His kept his appearance, professionalism, and realness at all times.I had just talked with him not too long ago, and NEVER would have thought that i would be posting this comment. "Clearly"...I am just one of the many, many, MANY people Dekenric has touched in some way...I am so glad to had met such a kind individual, and Devin u will be missed...i will keep your family in my prayers. |
BLACK
18/07/07 06:03:24

I don't know where you are on your path
I have never stood in your shoes
I see not with your eyes.
I know not what your purpose is here
In this stage of your evolution
But I feel blessed to know you
As you are not in my life by chance
And you are my teacher
As I hope you learn from me
I pray I show reverence to you
I pray not to judge you
I wish to let you be
Who you are
Who you dream of being
I will just be beside you
And watch you grow
And the day will come for sure
When we will know why
Our paths crossed this way
And until then my friend
Be who you must be..RIP


Tre
18/07/07 04:47:44

I don't know what to say. When I received the phone call my heart stopped beating. You will be greatly missed. To the friends and family, Accept what God allows.

We Love You De


Marcus Dallas
18/07/07 03:41:38

| | |
| --- | --- |
| | What can I say, De my friend and homeboy. From the time you came in my life you have always been yourself. Words can not really express what I feel right now. I have known De for about 10 or more years. We worked together, went out and kicked it. That was my homeboy the true meaning of a friend.It is hard to get in my head that "De" is gone. I can't call him and talk about life issues and joke about the past. Like Baby Boy said life is a book and we all are playing a role in the book called life. As long as I have known Dekenric he has been a major part in my life. Now De is looking down on us, telling us to be strong and lift up heads.All is well weep not for I am in a beeter place. I do believe that one day when my book is finished and the last chapter is written I will see my buddy again. My prayers go out to family and know that one day we will see him again...... |
Charles Harris
18/07/07 03:38:02

| | |
| --- | --- |
| | Wow, how time quickly passes. I can't believe how many years have past w/o seeing your bright smile & great legs I envied. I'm deeply saddened by the loss of Dekenric "Little D" you will be missed. |
Douglas T Lowerre
18/07/07 02:58:25

I was shocked when Warren (Baby Boy) called me and told me about Dekenric's passing. I did not know him as well as others, but I do know that he was a great individual. He was an individual who cared about those he worked with, a rarity in this business.

Dekenric, you will be missed greatly by those you cared about and in turn cared about you. You also will be missed by those whose lives you touched in any way, no matter how briefly, in business or personal life.

God bless you, Dekenric, for all you did for everyone!!!


Christopher Walker
18/07/07 01:37:12

| | |
| --- | --- |
| | I am so saddened to hear of D's passing, he was definitely always a joy to see and talk to, he had a smile that would just make you melt. He was definitely a beautiful person inside and out. May God rest his soul. Much Love To You, D, from me, Chris"mrguudebar" in Dallas-FtWorth, Texas. REST IN PEACE. |
Lenox.magee@gmail.com
18/07/07 00:33:37

I've only had the opportunity to meet Devin a couple of times and he was purely delightful. He will definitely be missed.

Lenox


jonathan [justbthat]
18/07/07 00:27:30

your death did not come to pass without making some impression, and those close to you inherit part of your liberated soul and become richer in their humanness.

none of that changes the truth that it hurts and you will be missed.


TL
17/07/07 23:43:55

I am so sorry to hear of the untimely death of my dear friend Dekenric. I met him a few years back at the first Charlotte, NC Black Gay Pride in 2005 and we've been friends every since. I looked forward to his return every year and was especially looking forward to see him this weekend. Unfortunately, I won't have the opportunity see him, greet him with a hug nor see his beautiful smile again. I didn't even have a chance to say good bye. This weekend, it is my goal to have a moment of silence is honor during our expo. Dekenric,You will truly be missed. So farewell my friend, rest in the presence of God.

love u like a brother,
TL
CNCBGP Project Manager


Shawn Legend
17/07/07 23:33:58

| | |
| --- | --- |
| | WoW , It was great meeting yu and talking to you. You always gave me good advice when i first got in the buz. and whenever I say you, you would always ask what i want. lol I will miss you and No event or pride will be the same without yu anymore. I love you KIddo. |
Shaun
17/07/07 23:27:18

| | |
| --- | --- |
| | Devin you will most def be missed to the flavaworks,cocodorm family my prayers are with yall during this time |
Damon
17/07/07 23:27:09

WoW!!!!!! This is the personal word I keep saying to myself. Last I spoke to you. You were chastising me for my lapse in time with ensuring that all was secure for your arrival to Charlotte's Pride this year. Because of that call I put you on my important things to do list. I made several unreturned calls and when I received the call that you were not coming this year I was disappointed because for the past 2years your smile has been one of my favorite things to see during such a jam pack weekend. I looked forward to getting your call saying "We're Here" that has become my way of knowing that it's now officially Pride and I could breathe……this weekend with Pride I know It will not be the same and please forgive me if I keep looking at my phone waiting to here your voice saying "Where Here" because I now know you are there and extremely comfortable & sharing you love and smile where it's now most needed.


Damon
Charlotte NC Black Gay Pride-Chair



PLATINUM
17/07/07 23:10:55

| | |
| --- | --- |
| | i would like to send out my condolences to Devin's family and to all that knew and loved him. Even though we never met but spoken word, it's sad to hear that ONE of our own has past. D you will be missed by us all, but we will never for get you. We will hold on to all the memories that we've shared with you. You are now safe from any harm. |

[PREV] 1 2 3 4 5 6 7 8 9 10 .. 11 [NEXT]