July 14, 2008. It's hard to believe it has been one year since the passing of Dekenric "Devin" Wiley. We take this day to remember the fun, life and energy he brought to Flava Works!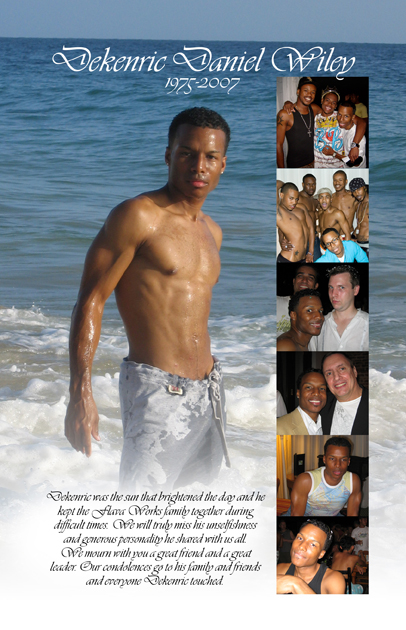 July 14, 2007. A message from Flava Works, Inc founder, Phillip Bleicher:

With a heavy heart and great grief, I am reporting the death of our Vice-President Dekenric Wiley aka Devin, today July 14, 2007, from pneumonia.

Dekenric was the sun that brightened the day and kept the Flava Works family together during difficult times. We will truly miss his unselfishness and generous personality he shared with us all. We mourn with you a great friend and a great leader. Our condolences go to his family and friends and everyone Dekenric touched.

It's a huge loss for the Flava Works family. His legacy and memory will stay with us forever.


Dekenric Daniel Wiley, 1975-2007

THE BEST OF TIMES
Baby Boy, Devin, Ruff Ryder


Breion Diamond & Devin


Breion Diamond, Baby Boy and Devin
The gang @ the New York Gay Erotic Expo
Dekenric's Favorite Pose

| | |
| --- | --- |
| Dekenric | |
[CLICK HERE TO LEAVE A COMMENT IN MEMORY OF OUR FRIEND]
[PREV] 1 2 3 4 5 6 7 8 9 10 .. 11 [NEXT]


Shawn
03/08/07 02:47:30

| | |
| --- | --- |
| | Though is passing is a sad event, we are all left with the joy of knowing Dekenric. We only spoke on the phone a few times, but just those few moments, I got to know a very kind and gentle person. When we see rainbows in the sky, we should think of Dekeric and all those who have departed this life, but moved onward to a better life....Rest in Peace Bro! |
PHILLY CHRIS.
01/08/07 12:42:55

| | |
| --- | --- |
| | MANY, MYSELF INCLUDED, DIDN'T KNOW YOU, GOOD BRUTHA. BUT THE LOSS OF YOUR SPIRIT IS UNIVERSALLY TRAGIC. MY CONDOLENCES GO OUT TO ANYONE HURT BUT YOUR DEATH. BUT YOU ARE SO MUCH HAPPIER NOW. GOD HAS OPEN HIS DOOR TO YOU. YOU WILL FOREVER BE BLESSED |
Karl Wright
01/08/07 11:49:25

| | |
| --- | --- |
| | I didn't know Devon, but my heart goes out to his family, his memory and all the people he touched . |
Fige Bornu, Chairman, Positive African Image Institute
01/08/07 04:32:17

| | |
| --- | --- |
| | I did not know this young strong soldier and it was my lost. |
Suthun Music Entertainment
01/08/07 02:59:50

| | |
| --- | --- |
| | I've Heard Many Great Stories about a talented, strong minded, possitive mentalilized black man! who kept his head up through thick and then to show his love for the business he ran.. We Know That You're In a Better Place you will continue to look down on the company and its associates! we know that there is a god.. G.O.D has you taken care of in ways no one could ever in a million years have done! you will forever be in my prayers as well as the wiley family .. We Will Make Sure That Your legacy continues on earth |
Prince Junior a.k.a PJ
01/08/07 01:36:54

| | |
| --- | --- |
| | MY BIG BROTHER DEVIN, WOW I NEVER THOUGT I'D SEE THIS DAY SO SOON. IT'S SO HARD TO EXCEPT THE FACT THAT YOU'RE GONE, I CAN'T EVEN FIND THE WORDS TO SAY. I'M GONNA MISS YOU MAN JUST SEEING YO FACE, YOUR SMILE, YOUR PERSONALITY, JUST YOU BEING YOU. YOU KNOW YOU BRIGHTEN UP EVERYONES DAY NO MATTER THE SITUATION. YOU INSPIRED ME INTO DOING ALOT OF THINGS I KNOW I COULD BE STUBORN BUT YOU MANGED TO FIGURE ME OUT AT TIMES. IT'S LIKE YESTERDAY WE WERE JUST ON THE ROAD TRAVELING AND JUST DOING WHAT WE DO, HAVING A GREAT TIME. JUST A LITTLE SOMETHING TO SHOW YOU HOW MUCH AND CARE AND THAT YOU WILL BE MISSED. YOUR LIL BROTHER PJ. I'LL SEE YOU SOON AND WE CAN CONTINUE DOING WHAT WE DO AND I KNOW YOU'LL STILL KEEP EVERYONE SMILING WHILE YOU'RE LOOKING DOWN OVER US. |
Erand Williams
31/07/07 17:14:12

| | |
| --- | --- |
| | well I really don't know him but he is a cute person, looks like he did a really, really good job in what he has bein doing. I feel sorry for his lost, I bet everyone loved him he looks real cool, lots of people could get along with him. Yea im sorry, for his loss. He cute. |
TYSON CANE
31/07/07 13:37:48

I would like to say that the industry will be sadly missed by the influents of Dekenric, who was not just a great man but honest, strong just to name a few things. We are very saddened by the NEWS but I an am firm believer that God just wanted him to come home now.

Tyson Cane
Our hearts go out to you.


kirk_accepted@yahoo.com
31/07/07 04:55:17

It is so awesome to hear so many people talk about Devin and his impact on their life. I can say, I envy everyone that knew Devin because I missed having him as a friend. He had to be a great fighter and great lover of people. Oh how I hope to love the way he apparently did. Thanks for sharing this opportunity for us to say we are sorry.
"God, please hold Devin in your loving arms until we all get there to feel your same embrace."


T.A.C.
30/07/07 22:14:58

Well,

As I sat and waited for my car service on Friday, to pick me up for the airport for my buiness trip it dawned on me that I hadn't heard from Devin in about two weeks which is unsual. So I decided to give him a call on his personal cell phone to find out what was going on and why I haven't heard from him. When a strange voice came thru the receiver I thought he has possible lost his phone or changed phone numbers. Prompting me to hang up and logged online to send him an e-mail. When I logged onto the website there he was with angel wings and an invite for a memorial which some what looks like an invite for a party when I first read it. My first thoughts were, he is copying my party that I had back in June which was on the roof top of a hotel at sun set in New York City. LOL...He would have too! Then my cell phone rang with his number showing up on the caller ID and I answered the phone, "NIKKA WHY YOU COPYING MY PARTY?" and that strange voice came thru the phone again. "Are you looking for Devin?" "Yes I am who is this?" "Well, if you are one of his friends, unfortunately Devin is no longer with us." My world stop for 1 whole minute and had to realize that this was NOT a joke, nor was I dreaming. I hung up my phone logged back onto the website and realized OMG my friend has gone on to be with Jesus and without telling me....NO NO NO NO this couldn't be as I was walking downstairs to the car headed to the airport. I sat in silence on my way to the airport and after I checked in continued to be in silence to graps what I just realized.

I am going to miss those long night chats on the phone about your mother, your family reunions that you would go to in Texas, your experiences at church on Sundays and most of all I will never forget the day you came to my Celebrity Cooking Demo that I hosted in NYC. You told me that day "I am so proud of you" and I then I new immediately that you were a sincere, geninue, straight forward, honesty, and respectful man. And that's why I gave you that cashmere scarf designed by MARC J. himself, I hope your mother will wear it out in California now. I remember she wanted to take it from you immediately and I am now giving her premission too....lol

I thank God for your life, and for blessing me to have you as a friend. You will be in my heart forever and don't try to take over HEAVEN, get to know the place first!

As you always tell me "LOVE YOU BOY!"

T.A.C.


PhillyRicans aka DaPapiChulos
29/07/07 03:44:45

From Our Family To Yours!

Death is no enemy of man; it is a friend who, when the work of life is done, just cuts the cord that binds the human boat to earth, that it may sail on smoother seas. No language can describe a friend's worth, and yours was tried and true. But he was not called hence until his tasks were done. The calls of death are always for the best, for we are solving problems there as well as here; and one is sure to find himself where he can solve his problems best. It is but selfishness that makes one wish to call again to earth departed souls. Then let your brother rest in peace. Just let his noble life be strength and inspiration unto you.

Adios Papito, Que Dios Te Tenga En Buenas Manos!
Peace & Love
Da Papi Chulos


Trevor Williams
29/07/07 02:29:56

| | |
| --- | --- |
| | Take your rest "Pretty Boy" and know that you will truly be missed! Peace and blessings to your Family and Partner. |
hue67@earthlink.net
28/07/07 21:40:00

| | |
| --- | --- |
| | The Course In Miracles states, 'no body can contain my spirit.' Think of all the freedom that exsist for the person who makes the transition outside of the human condition. Dekenric is truly free! |
CUTEAZZHELL
26/07/07 13:22:18

| | |
| --- | --- |
| | I just wanted to take this time out to say that my heart goes out to those who were touched by De'! He will truly be missed. |
will
26/07/07 12:41:49

Devin...was my contact at Flava for the past two years for our event in Puerto Rico. In those past two years he was more than kind and giving of his time and knowledge.

What would start out as a business calls, would lead to a hour long chats as if we where old friends(although we never met).

Through these difficult times we at San Juan Brothas and myself share in your loss.


Alex
25/07/07 23:02:54

| | |
| --- | --- |
| | Hey...De...I was shocked and goosbumbs came to me as someone had mention it at my store at 2 am in the morning wile i was working....and i had to stop and just go home....i really am sorry for ur mom ..the whole fam and friend of the loss....as well as i will miss u very much..as a good friend that we were.......u was the most hard working, kind, down to earth kind of guy..(oh and funny)..When u used to tell me (you did not like on the DL guys like me.)..lol..hahaha ...We always spoke on the phone weather it was for work..or just blab-bin even during work.......Seriously u will b very much missed....But ur in better hands now..May God bless u....luv ya man.......1 |
Damon DeLira
25/07/07 21:00:31

| | |
| --- | --- |
| | I will miss De tremendously. Of all my memories of him, 2 really standout- one was whenever we went out, if I found someone attractive, he would always get the persons number for me or make the introduction. The other is I was working as a probation officer at a prison, and I was real hungry one night and it was raining cats and dogs, and he drove all the way to see me and bring me some Williams Chicken. I will love and miss my lil brother |
RM
25/07/07 20:44:24

| | |
| --- | --- |
| | Just wanted to send my prayers and thoughts out to his family and friends. For the short time I have known Devin I recognized the wonderful spirit he possed. Even when I spoke to him and he wasn't doing all that well...he kept a smile...made me realize, just b/c things may seem bad in your life...doesn't mean you have to give up! |
CLASSYWRITER
25/07/07 20:43:44

I'm totally shocked and sorry to hear about Devin's untimely passing. Devin was really a cool, down to earth and profiessional guy and I'm grateful to have the opportunity to interview him and he made the interview very fun.
I will keep his family in my prayers and I know he's in a better place now.


Carlton
25/07/07 18:29:43

| | |
| --- | --- |
| | Wow, when I recevied the email about a memorial service, I was sure it was bad advertisement and it really meant party. I was not a close, close friend of Dekenric, but we've shared many moments, phone calls, and emails.. I am tremendously heart broken that Dekenric is not with us anymore, and truthfully just in disbelief.. Too young to die!! But this we know for sure, the spirit is invinsible and Dekenric has transitioned beyond this realm, but is completely in tact in another!! My condolenses to his family and friends!! |

[PREV] 1 2 3 4 5 6 7 8 9 10 .. 11 [NEXT]