July 14, 2008. It's hard to believe it has been one year since the passing of Dekenric "Devin" Wiley. We take this day to remember the fun, life and energy he brought to Flava Works!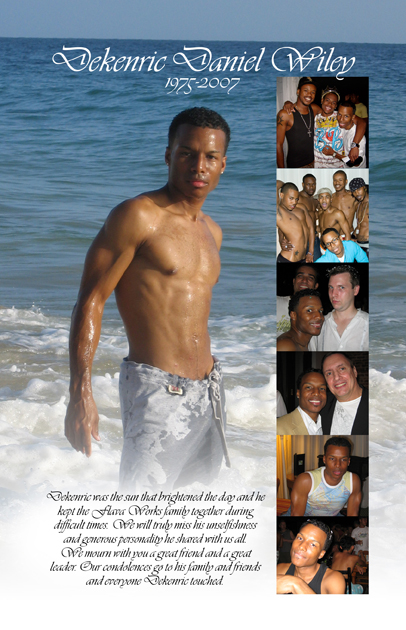 July 14, 2007. A message from Flava Works, Inc founder, Phillip Bleicher:

With a heavy heart and great grief, I am reporting the death of our Vice-President Dekenric Wiley aka Devin, today July 14, 2007, from pneumonia.

Dekenric was the sun that brightened the day and kept the Flava Works family together during difficult times. We will truly miss his unselfishness and generous personality he shared with us all. We mourn with you a great friend and a great leader. Our condolences go to his family and friends and everyone Dekenric touched.

It's a huge loss for the Flava Works family. His legacy and memory will stay with us forever.


Dekenric Daniel Wiley, 1975-2007

THE BEST OF TIMES
Baby Boy, Devin, Ruff Ryder


Breion Diamond & Devin


Breion Diamond, Baby Boy and Devin
The gang @ the New York Gay Erotic Expo
Dekenric's Favorite Pose

| | |
| --- | --- |
| Dekenric | |
[CLICK HERE TO LEAVE A COMMENT IN MEMORY OF OUR FRIEND]
[PREV] 1 2 3 4 5 6 7 8 9 10 .. 11 [NEXT]


Christopher Blake
23/07/08 23:41:52

| | |
| --- | --- |
| | Does anyone know how he died? |
TJ
18/05/08 19:26:20

Well I know my message is really late but its taken dome time for me to get the words. No I dont know Devin personally but I have hel conversations with Baby Boy. Devin the impact that you have had on these peoples lives are ones that no one ellse could have givin them and I just want to thak you for that. To me it seemed like we needed more Devin's in the world to help our people find there way.

Devin you did a good job with mentoring these kidds. I can tell by the way baby boy acts. His maturity and his actions say alot about your teaching. I am just sorry that I didnt get the chance to meet you when you were here. But I am reminded that this bodu that we are in now is a temporary home and when we get to our permanent home we will have a chance to laugh and play. Look down on my Baby Boy and encourage him.
Love you Devin


shavondra tyes
03/04/08 17:25:21

| | |
| --- | --- |
| | hey "D" i just wanted to stop by and tell u how much i miss u i have been thinking about a lot..u r always in my thoughts thinkin about the wonderful times we shared...i love u big cousin...and i miss u dearly..love ur lil cousin~shay |
Omar
24/03/08 03:29:40

| | |
| --- | --- |
| | I am so sorry i did not get a chance to meet this wonderful guy. It seems as if he was the greatest guy ever for flavaworks. I felt every pain the staff is feeling and i don't even know Devin |
scoota
22/03/08 21:37:39

I knew kendric very well and I miss him very much. He wasn't one who told all his secrets, Im him. love u always ken.
your boi
Scoota


timi
08/03/08 03:37:47

| | |
| --- | --- |
| | though i did not get to know him but i av read so much about him and i av even planned to meet with him whenever i comes around but unfortunat |
Dennis
21/02/08 17:19:45

| | |
| --- | --- |
| | Its been really hard to come to this site and read all the kind messages.....I just couldnt do it last week, but I just wanted to drop a line to say Happy Birthday De'.....I miss you sooooooooooooooooooooooo much!!! February 12 was a very sad and hard day for me...I didnt have you here to sing happy birthday or to take you out and just have a good time with you....You may be gone in body, but you spirit will always live on in my soul and my mind....I think of you constantly!!! This is such a hard thing for me....I just miss you sooo much!!!! I know that you are looking down and smiling...Plus Im sure you are up there having fun and as beautiful as you were here with us......Till we meet again....I love you and I miss you.....................PAPO~ |
Torrie
28/01/08 02:11:01

| | |
| --- | --- |
| | too bad I didn't know him, R.I.P |
michael
15/01/08 05:08:46

Sorry to here about the loss.. i didnt no him..
he look like a very nice, outgoing, just a fun person to be around. I miss him to
Michael atlanta


JVerde
06/01/08 21:10:35

| | |
| --- | --- |
| | Here it is 2008 and the ripple in the pond of this eternity caused by the transition of my Tyler Rose from this plain to next grows in an ever-widening circle. Still people come here to share and grieve and mourn and rejoice for even having known Him. What a wondrous joy it is. As painful as it was to acknowledge his transition, still his joy is with us. |
RICARDO
30/12/07 03:55:01

| | |
| --- | --- |
| | YOU WIIL NOT BE FORE GOTTEN BUT WILL ALWAYS BE MISSED WISH WE COULD HAVE MEET SOONER GUESS I'LL SEE YOU AT THE CROSS ROADS TIL THENN BE AT PEACE MY FRIEND |
Flava Works Staff
25/12/07 20:05:49

Well it's Christmas time and we're having a special dinner for the staff and friends at the office by your desk and our little shrine we have put together in your honor.

We miss you Dekenric and the brightness that you brought with you everyday when you shined your life onto others.

We have planned many great things in 2008, all in your honor, and although we we will move on and time will heal the loss of your presence, we will never forget and will also honor your memory in many ways.

Again, Dekenric, thanks for everything that you have done for us. Merry Christmas!


BabyBoy
13/12/07 14:48:23

Guess theres no real way to start off saying what a great deal the world has missed this great friend/mentor/successor/etc etc etc. To me, Devin was everything in every way. Smart, Funny, Lovable, Dedicated, Right ALL THE TIME, so on and so forth. I can sit here this morning, saying that not a day goes by that I dont think of him and what he left enstilled in me and everyone in the FlavaWorks Crew.
We Have Two Framed Pictures of Him here at the office as well as many others surrounded around the office like a barrier to keep the bad out. One of the Two is a Picture of Him and I. Its a caricature of us when we went to St. Louis for a promotional trip. Then the Other, Is a picture of him Lying on a bed, Looking straight out of the picture as if he was looking you straight in the eyes. I take time out of my day while Im at the office, to look into his eyes, and think about whatever Im dealing with at the time, and Always leave the picture relieved and calm. Those Eyes, (sigh), his eyes, wow.

Wow, Devin......We Miss You more each day, But never forget what impact you left on me and countless others.

My tattoo tribute to you, as we call it, ThE Devin Arm, is more of what you meant to me. You rest easy, and wait for the day that we will be together again.

I luv you....

Luv Always


BAbyBoy


Decorian Wiley
12/12/07 18:57:50

| | |
| --- | --- |
| | Devin was my cousin...he had such a great spirit and my family misses him greatly. It was so hard to hear the news because I had spoken with him only a few days before his death. It was the first time I talked to him in about 6 months. I told him that I was going to come visit him and he was going to have to take me out. He laughed and said, "I'll be waiting!" Devin was the foundation of what I built to actually come out to our family. He helped me through EVERY step of the way. When I found out that he passed, it was like my heart exploded. It's taken me until now to finally come to the realization that he is not here anymore. God took his angel home to rest. He's in a very much better place and I'm SO happy to see that he is missed. I love you and thanks for EVERYTHING, cuz. I miss you dearly!!! |
Phillip Bleicher
08/12/07 18:34:31

| | |
| --- | --- |
| | We miss you during this holiday season. We know your watching over us, but wish you could still be with us. |
Jeff kinser
08/12/07 18:16:32

| | |
| --- | --- |
| | Hfms |
T. Wyattt-Houston
03/11/07 22:45:24

This is the strangest thing. I'm sitting here on the internet and searching Black College Football sites when something came across my mind with FlavaWorks. Why, I see because the lord does everything for a reason. Man, it's Shock and Awe with this one. I've known D for soooooo long. I mean like ahhmm over 10 years I think. We hung hard in Dallas back in the day. We parted, drank, clubbed talked noise and flerted even with each other. To no avail, we've just been friends. Distance sent us about our way and i'd see him every blue moon. We talked on the phone moreso than anything as the years have come. When he called and cursed me for not knowing that he was in town (houston,) I got up and went out and there he was. We laughed and talked and partied. He even got a lil frustrated with me and fussed, but ooh well that's how we did. I never in a million years thought that would be our last time seeing each other. I totally understand though that it's all done on God's time, not ours. We talked that night as he drove back to the hotel and as he fell off to sleep. Thanks for the laughter! Here today, i'm sorta dumbfounded. I just keep saying WOW... At this very moment, I kinda just don't know what to say, so to all who read this, please know that D, ooh Mr. D was a great great, fun, energetic, always smiling, happy go lucky fella. To the memories and times i'm most grateful to God. I shall trust that the Lord will comfort me and those who have been blessed to be in his presence. I will trust that the Lord will talk away the sense of confusion and doubt. I know that in the meantime, we must yet hold on, yet be strong and yet carry on. I'm so late and i'm SO sorry but I THANK GOD THAT THIS IS NOW SOMETHING I KNOW.. MY LIL HOMIE D IS RESTING IN THE BOSSOM OF THE ALMIGHTY... UHHHMM.. this one is ruff! BUT........ TO GOD BE THE GLORY... I LOVE YOU AND MISS YOU ALREADY.

thad


Dennis Frazier
23/10/07 21:59:15

WELL IT HAS BEEN A LITTLE OVER 3 MONTHS NOW, AND IM STILL IN SHOCK....DEKENERIC IS MY BEST FRIEND OF ALMOST 9 YEARS AND I MUST SAY MY LIFE IS NOT THE SAME WITHOUT HIM HERE....I THINK OF HIM CONSTANTLY AND MISS HIM SO VERY MUCH...I MISS THE DAILY CALLS AND TEXTS THAT HE SENT...MY HEART IS TRULY BROKEN BY THE LOSS OF MY RIGHT ARM AND I DONT KNOW THAT IT WILL EVER BE MENDED.....I WROTE THIS AND READ IT AT HIS MEMORIAL IN HIS MEMORY:
A TRIBUTE TO DE'

YOU HAD TO GO AND I DONT UNDERSTAND
BUT I KNOW THIS WAS A PART OF OUR MASTERS PLAN

YOU TOUCHED MY LIFE IN EVERY WAY
OH HOW I WISH YOU WERE HERE TODAY

YOU TOLD ME NOT TO WORRY AND THAT YOU WOULD BE FINE

LITTLE DID I KNOW WE HAD SUCH A SHORT TIME

YOUR FRIENDSHIP MEANT THE WORLD TO ME
THE KIND OF LOVE YOU GAVE EVERYONE COULD SEE

SO FULL OF LIFE AND FILLED WITH LOVE
THAT'S WHY GOD NEEDED YOU UP ABOVE

YOU ALWAYS KNEW HOW TO PUT A SMILE ON MY FACE
BUT NOW IN MY HEART THERE'S SUCH AN EMPTY SPACE

I WILL CRY, MOURN, AND MISS YOU AT THE SAME TIME
BUT IN HEAVEN I KNOW YOUR LIGHT WILL SHINE

EVERY MOMENT WE SHARED WERE THE BEST MOMENTS OF ALL
BUT I KNOW YOU HAD TO ANSWER GODS CALL

SO LIVE ON IN HEAVEN AND BE THE BEST ANGEL YOU CAN BE
JUST REMEMBER TO SAVE A SPOT FOR ME DE'.

I LOVE YOU AND MISS YOU SO DAMN MUCH!!

THE CREW IS STILL HURTING BUT WE WILL BE STRONG FOR YOU AND KEEP YOUR LEGACY GOING.


Educyril
10/10/07 10:59:19

| | |
| --- | --- |
| | It is said that the eyes is the light of the soul. I do not know D personally but his nice personality can be felt in his pictures. I offer my condolence to them and to D, I look forward to meeting you one day. |
Kevin LaMarcus Brown...the Infamous M.A.R.C.
06/10/07 23:02:35

| | |
| --- | --- |
| | I never got the chance to meet Devin, but i have gotten the pleasure of chatting with his friend BabyBoy....BabyBoy says that they were one in the same essentially so i'm sure he was a one-of-a-kind, loving person just like his friend....One thing that EVERYONE knows is LOSS!! My condolences go out to the Wiley Family and all those who loved Devin!! R.I.P. |

[PREV] 1 2 3 4 5 6 7 8 9 10 .. 11 [NEXT]