July 14, 2008. It's hard to believe it has been one year since the passing of Dekenric "Devin" Wiley. We take this day to remember the fun, life and energy he brought to Flava Works!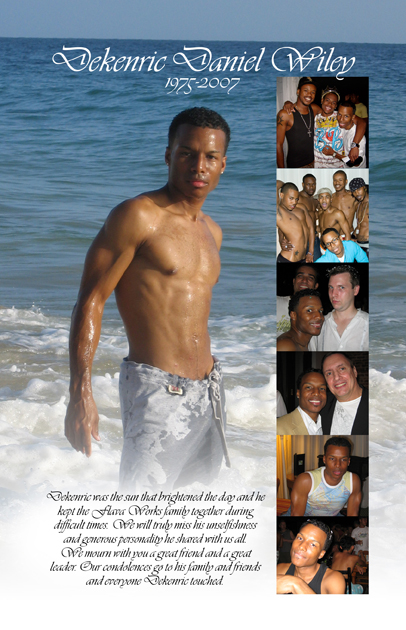 July 14, 2007. A message from Flava Works, Inc founder, Phillip Bleicher:

With a heavy heart and great grief, I am reporting the death of our Vice-President Dekenric Wiley aka Devin, today July 14, 2007, from pneumonia.

Dekenric was the sun that brightened the day and kept the Flava Works family together during difficult times. We will truly miss his unselfishness and generous personality he shared with us all. We mourn with you a great friend and a great leader. Our condolences go to his family and friends and everyone Dekenric touched.

It's a huge loss for the Flava Works family. His legacy and memory will stay with us forever.


Dekenric Daniel Wiley, 1975-2007

THE BEST OF TIMES
Baby Boy, Devin, Ruff Ryder


Breion Diamond & Devin


Breion Diamond, Baby Boy and Devin
The gang @ the New York Gay Erotic Expo
Dekenric's Favorite Pose

| | |
| --- | --- |
| Dekenric | |
[CLICK HERE TO LEAVE A COMMENT IN MEMORY OF OUR FRIEND]
[PREV] 1 2 3 4 5 6 7 8 9 10 .. 11 [NEXT]


smooth
16/07/07 20:12:38

| | |
| --- | --- |
| | SHIT, IT WAS JUST TWO WEEKS AGO I WAS IN THE OFFICE DOING SOME WORK AND DEVIN TURN TO ME AND SAID " SMOOTH DID U CLOCK IN " LOL DEVIN MADE SURE WE (models) WAS TAKEN CARE OF WORK WISE AND OUT SIDE OF WORK. WHEN I FRIST CAME TO THE COMPANY WE TALKED Alot thur e-mails...... this is so fucked up the last conversation we had he said smooth prove ur self and u'll be find damn devin who can i call now..... |
Kenny AKA Kamaflage
16/07/07 20:12:38

| | |
| --- | --- |
| | As i sit here and try to find the words to say. i find myself without words. I have thousands of things to say but none of them seem to be powerful enough to express the carisma, the strength and the love that was Devin. He was one of the few people that i have ever trusted and believed eveything that he has ever said to me. He will be missed his legacy lives on in the heart of everyone he touched. I'm here for you guys if you need me. We have to be strong for each other. I love you guys and am here if you need me. Devin I love you and i mean that with all my heart. I just want to say thanks for being a friend, an advisor and even a shoulder to cry on (even though you never like all the water works lol). See you on the other side cuz i know you lookin down on me now as i type. LOVE YOU ALWAYS!!! |
BabyBoy
16/07/07 20:12:38

I sat and thought about how to word this...so Im just writing from my heart. My friend, My Favorite, My Supporter....Devin My Everything. As I write My support system breaks down....I havent actually set down to think abou it because I really and honsetly feel if I did, such an depression would effect my life. Judging by Devin and I's Last conversation... I said, "You gonna make it thru this"...as I cried, He said "BabyBoy, Im going to pull thru this, Im mighty Mouse...Dont worry about me, Worry about you and what you need to do".

An indescribable Feeling effects me as I realize the Friend Ive Grown to know and Love Dearly for the Last 3 years is gone.

Im ending this, Saying, Never take someone's Presence for granted. Give knowledge to those you love while there here, Because Tomorrow isnt promised.

Devin I LOVE YOU, AND IM GLAD YOU KNEW I DID

He will be my guardian angel for the rest of eternity....

He was my everything......


Malik
16/07/07 20:12:38

| | |
| --- | --- |
| | I can't even think of what to say. I had to read it twice before I thoroughly understood. My thoughts and prayers to his family and those at the dorm. |
Gilette
16/07/07 20:12:38

| | |
| --- | --- |
| | I always knew that with Devin being associated with Cocodorm/Flava, that no matter the problem,it would get resolved. Devin would always give me an answer to any question. He is one of the reasons I am still a member. I knew it would be done,respectfully correctly and with love with Devin. Thanks, Phil, Breion, Babyboy all you guys for showing you LOVE, I MISS HIM ALREADY. LOVE YALL, TAKE CARE |
BAHL
16/07/07 20:12:38

It is times that this that we find out the awesome power that God has in this world. It's times to like this that we also look to the Word of God. The Bible says in John 14, I go to prepare a place for you. And if I go I will come again. So that where I am, there you will be also."

To the Family:
Know that in times like this the prayers of those who know and love Devin will bring the peace of God into your homes and into your hearts.

To the Dorm:
If you don't know God, now is the chance to not just get to know Him, but to get an understanding of who He is. My prayers are with each of you as you deal with this tragedy. Know that as you reflect on Devin, that this is a time of celebration. For one day, we all must make this journey. It is an appointment that we cannot cancel. It is my prayer that God comforts each of you during this time. Breion, hold your head up. Many people consider you the leader of the dorm because of your popularity. Dorm members, know that God does not make mistakes. He knew what He needed to do, even in this time. He has a greater purpose for Devin in Heaven!

To the fans:
Bond together during this time. Rumors will begin now. Insults will begin now. Media may even go crazy now. But the Word warns us with the words "touch not mine anointed and do my prophets no harm." How can I leave such a powerful message on a website that many consider sin. Well, God used a former whore to anoint the head of Jesus before resurrection. I'm sure He is doing the same with me...a bi-sexual preacher.

If anyone would like to talk or needs prayer or words of comfort...my email is fakepplnotwanted@aol.com!


Jayjay
16/07/07 20:12:38

| | |
| --- | --- |
| | My deepest sympthy goes out to Devin's family and to Flava Works. You will be surely missed. |
Breion Diamond
16/07/07 20:12:38

ya'll forreal. this is fucking me up inside. i cant stop crying. i thought he was gonna be fine. ...it's just fucked up ....
Romeo, P.J. smooth, baby boy. we gotta stick together. its just us now, and the gate keeper is gone.

Devin, at least i got the chance to say good bye...
Or What Ever..... lol! our inside joke... i'm gonna miss U!


Heartbreaker
16/07/07 20:12:38

Seems like it was only yesterday Devin was in the chatroom kickin it with all the members.Laughing and joking and now he's gone.He will truly be missed.

My heart and thoughts go out to his family and his 2nd fam at FlavaWorks.


Jay Gray
16/07/07 20:12:38

| | |
| --- | --- |
| | You guys might feel the ain and suffering that my family is going through or maybe not, but I am Dekendric real blood family and this is the second person in my family I have lost this way so i doubt if anyone feels my pain, the last time I saw my cousin was for our family reunion I didnt even get to say goodbye so to get on here and see his face hurts me more but i do thank you and whom ever considers him family for the love that you guys are showing |
Rommell
16/07/07 20:12:38

| | |
| --- | --- |
| | This news had shocked me emotionally and spiritially. Devin always made time for me in the chat room and he will be dearly missed. What is really the sad part about this is that he left this earth on my birthday. But I do believe that God took him in his presence for a reason. We may not understand it but this is GOD"S work. |
Quan aka Finesse
16/07/07 20:12:38

| | |
| --- | --- |
| | Devin was a good friend and cherished adviser ... he helped me get thru my experience with the dorm ... To everyone who knew him he will truely be missed !! |
JOKER
16/07/07 20:12:38

Yo I just fuckin talked to you not to long ago, Nigga I was waitin for you to come to Charlotte. Never knew u was sick son. YO THIS DUDE RIGHT HERE WAS MAD FUCKIN COOL AND REAL.

Im going to miss you fo real D

ha ha everytime we talked u be like wat u want kiddo ...DAMN


blktop
16/07/07 20:12:38

| | |
| --- | --- |
| | I am overwhelmed. I would like to express my deepest sympathy to Devin's family. This will be a difficult time for a good many, good people. I guess under circumstance it was to risky to open the Blog for the membership to express it's grief. Phil to you personally I know it will be rough. After having found such a unique and irreplaceable partner, only to lose him so quickly. I really don't know just what else to say. I am saddened. |
Delong
16/07/07 20:12:38

| | |
| --- | --- |
| | Is there a place we can send flowers to the family and staff of Devin? |
Dirty
16/07/07 20:12:38

My sincerest condolences to you and the boys. I was utterly shaken
by the news. I would like to ask if a blog could be posted on
behalf of Devon, so that we (the members & family)have a way to
express our feelings and sympathy during theses times.
Thanks in advance,and our prayers our connected as well.



[PREV] 1 2 3 4 5 6 7 8 9 10 .. 11 [NEXT]